Last weekend my sister, Caroline, came to visit me here in Chicago. She is currently working in Atlanta as nanny and had some free time to see me.
We had a fun and busy weekend! I have a few of our adventures to share, but since it is What I Ate Wednesday again I thought it would be best to tell you all about the fabulous food tour we went on.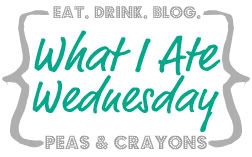 My first experience with a food tour was during my 21st birthday trip to Seattle and I loved it. With so many restaurants in Chicago (over 7,700, a little fact I learned from our tour!) I knew we would taste some good food. We signed up with the Tastebud Tours Chicago group to do the Taste Chicago tour. It was a nice small group of people in our tour which took us around the Loop area downtown and Millennium Park. We at a lot of food. We pretty much got full servings of the food at every restaurant we visited. And we got to sit down at every restaurant.
The tour started at Pizano's Pizzeria, where of course we had deep dish pizza. The guy who came up with deep dish pizza actually started this restaurant. This pizza was the real deal and definitely one of the best deep dish pizzas I have had so far. I had two small slices of the pie that was topped with lots of melty cheese, fresh sausage, and tomato sauce.
We then headed outside where our tour guide Lynn gave us some history about the area. Our next stop was inside Macy's at a little sweet shop called Sarah's Pastries & Candies. She makes some of the best brownies in town. Did you know that the first brownies made and served for the First World's Fair in Chicago 1893? This brownie was unbelievably delicious, I am not sure my description will do it justice. It was super rich and was almost fudge like in consistency. It just melted in your mouth.
Perfectly delicious.
We walked over to the famous Palmer House next. It is a beautiful, old hotel that was one of the first that had elevators and electricity in it.
We even got a chance to walk into the famous Empire Room. Lots of famous performers, like Frank Sinatra and Carol Channing, have performed in there. For good luck, before going on stage, the performers would rub the nose of the goat on the urn outside the dressing rooms. Of course we had to see if any good luck could come our way from rubbing the nose!
Hoping for some good luck!
We then headed out to Millennium Park and check out Cloud Gate, or what most people call it, The Bean. We spent some time taking pictures (it is the most photographed landmark in Chicago) before checking out the Chicago Cultural Center.
Outside we stopped to take pictures with one of the Cows on Parade. Caroline loves cows and had to get a pic!
The Cultural Center used to be the old library and it is a beautiful building. Someone was actually setting up a wedding reception in one of the rooms while we were there. The ceilings were done by Tiffany's and are gorgeous. Plus since it used to be the library there were some great quotes about reading and books engraved in the walls.
Then it was time for a Chicago hot dog. We walked into a small little restaurant called Gold Coast Dogs and got a whole hot dog. Caroline is a vegetarian so she had it minus the hot dog, because the place didn't have veggie dogs. I thought it was OK, the flavors were there but it needed a bigger pickle and evenly distributed tomatoes. I have better versions of a Chicago dog other places in the city.
Sugar Bliss was our next stop. Can you guess what we got there? A mini cupcake! I have passed by the small shop before and remember stopping to stare at the beautiful treats. Besides looking so pretty, these cupcakes were wonderful and the frosting might be the best I have ever had. In fact, they sell little shots of just the frosting for a dollar. We tried a Black & White cupcake with dark chocolate cake and vanilla buttercream frosting. The creator of the shop and cupcakes used to work in finance, but decided to go to the pastry school in Paris. When she came back to Chicago she spent months testing and creating cupcake recipes. They use some of the best, natural ingredients in the cupcakes and you can tell because they are so good!
We continued the tour by walking down State St and passing the Chicago Theater. And the food wasn't over yet. We sat down at the Halsted Street Deli to try a real Italian Beef sandwich. We were served a big roll full of thinly sliced beef with mozzarella and peppers. It was pretty spicy and left my lips tingling. I am not sure the sandwich was really my thing, so I only had a few bites. Caroline got a veggie sandwich, that was just OK too.
Looking up from the 7th floor
For our final stop we headed back to the old Marshall Fields' building, where the giant Macy's now is, and went up to the 7th floor to try something at The Walnut Room. Marshall Fields became the first department store to serve lunch when the Walnut Room opened in 1907. It ended up being a big success because the ladies who would shop there could eat and then shop some more. The place gets really busy during the holiday season and many families come every year to eat there. They put up a giant Christmas tree in the middle of the room that has a different theme each year. (It sounds like I will have to visit again to check it out, because I LOVE everything about Christmas!)
We sat in the bar area at a dark wooden table where we got a big piece of Frango Mint Pie, which is a mint chocolate ice cream pie. We had already had a lot to eat, but this pie was too darn good to pass up. I ate the whole thing! It was cool, creamy, and had the perfect mint chocolate flavor.
Caroline and I had a great time on the Tastebud Tour! The company was great with a well organized tour set up and awesome food to taste. They offer two other tours and are going to have an all dessert tour coming up in the next month or so. If you are in Chicago you should definitely check them out! I have a feeling that I will be trying those other tours out when more family comes to visit.
We definitely got our money's worth for the tour and probably two meals worth of food, plus dessert! With all that food we were pretty much satisfied for the rest of the day although we did munch on some broccoli and cherries (not mixed together) in the evening.
Have you ever been on food tour?