Every year in Grant Park the city of Chicago holds a huge outdoor food festival where tons of local restaurants set up booths. This is known as the Taste of Chicago and I got the opportunity to attend this year. The festival has been happening since 1980 and it was huge! After work Friday I met, my roommate Kristin, at the park. The sky was a bit ominous, with dark clouds in the distance, but luckily the rain stayed away. The place was really crowded, but the smell of delicious food was a good enough reason to stay and check things out. We each purchased 24 tickets and set off to taste some food. All of the booths offered about four meals and then two "taste" options. I wanted to try a lot of different food so we went for the "tastes." For this week's edition of What I Ate Wednesday I thought I would share some of the foods we tried at Taste of Chicago.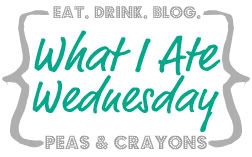 There were 59 restaurant booths so we just kind of scanned the booths and stopped if something interested us.
We spent about an hour exploring and tasting. It was a bit warm out and really busy, but otherwise it was good experience. The festival also includes, games, a kid's fun center, cooking demonstrations, and live music.
First was half a Chicago hot dog. If you haven't had one of these, boy are you missing out!
Next was some of Eli's Cheesecake Company's famous cheesecake. It may not look super special but their cheesecake is some of the best I have ever had. It is the ideal cheesecake, with just right flavor and creaminess.
I decided to try a roasted veggie taco, I don't remember where from, but I was disappointed. I wanted more flavor and the salsa tasted like it was from a jar.
We were looking for something to drink and ran into the Ocean Spray tent where they were handing out free samples of sparkling cranberry juice. This bubbly cranberry drink was refreshing. Plus I got a coupon to buy some more.
We then headed over to Connie's Pizza. One of their "tastes" was gluten-free pizza. Kristin and I were curious how it would taste and decided to split a piece. It didn't blow me away, but it was decent pizza. The crust was a bit different, since it was gluten-free, but it tasted like pizza.
Then I tried a yummy mini pulled pork sandwich from Smoke Daddy. The pork is the best part of the sandwich and there was a little too much bun so took off the top and enjoyed the rest.
Seasoned fries from Tutto Italiano was next. They could have used stronger seasoning, but were good enough.
Finally, I decided to grab a quarter slice of fresh watermelon from Dominick's. It was a warm afternoon and after the previous eats I figured some fresh fruit would be a good idea.
Some of the food was just OK, but it was a good opportunity to try some different restaurants. If I go again I would definitely have more of plan of what booths to hit up.
Have you been to Taste of Chicago before? What is one of the best food you have had at a food festival?
*And just a reminder, I had my first guest post over at Then Heather Said this weekend, so go check it out if you haven't already!