Time for another addition of What I Ate Wednesday. I missed last week because I was busy trying to get my new job stuff sorted out, training and such, but I am happy to be back this week. I have been trying to remember to take pictures of my food, but I forgot a few times so this is a compilation of some of my recent eats and not a complete day of my meals.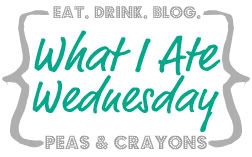 Homemade Nachos with Whole Wheat Toasted Tortilla, Taco Seasoned Chicken, Black Beans, TJ Salsa, Spinach, Cheese, and Diced Avocado. My mom gave me this idea a couple weeks ago and I decided to try Monday. It is wonderful and super filling. I just baked the tortilla a bit to get it crispy and then added on my toppings and warmed it all up a bit longer. Look at all the bright colors too!
Chocolate Chip Cookie Dough Ice Cream Cone.
I got off work late Tuesday and was craving some real ice cream so I headed across the street to Ghirardelli and grabbed this giant scoop. It was delicious.
Cheese Stick & Fresh Pineapple. This was my snack on Monday. It was a bit rainy outside and I had just finished a short strength workout. The cold foods were perfect after a sweat session.
Peanut Butter and Jelly on Potato Roll. This is an easy go to meal or snack for me. I will eat it anytime of the day. I used to not be a big fan, but over the past few months I have discovered I really love it. I like the softness of the potato roll with the TJ peanut butter and some raspberry polaner all fruit.
What good foods did you enjoy this week?